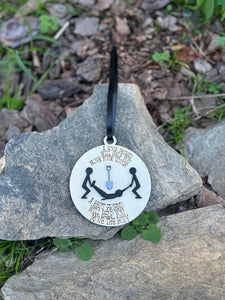 Introducing our unique and whimsical Christmas ornament, perfect for adding a touch of humor and personality to your holiday décor. Crafted with care by our veteran-owned woodworking business, this laser-engraved ornament is a true one-of-a-kind treasure.
🎄 Ornament Details 🎄
Material: Premium Baltic Birch Wood
Shape: Round
Size: Approximately 3.5 inches in diameter
Engraved Quote: "A good friend will help you move your couch, a best friend will help you move the body"
Design: Featuring two figures in action, humorously moving a body, with a charming shovel cutout
Our ornament is not just a decoration; it's a conversation starter and a source of laughter during the holiday season. Whether you hang it on your Christmas tree, gift it to a friend with a shared sense of humor, or use it as a unique stocking stuffer, this ornament is sure to bring joy to your celebrations.
🎁 Pricing and Availability 🎁
Price: $10 per ornament
Local Pickup: If you're in Rowan or Cabarrus County, North Carolina, you can opt for convenient local pickup. Just select this option at checkout, and we'll have your ornament ready for you.
Shipping: If you're not in the immediate area, we've got you covered. We offer shipping for just $5, making it easy to send this fun ornament to friends and family near and far.
At Family Tradition Woodworking & Design, we take pride in our craftsmanship and are honored to serve our community, especially fellow veterans. By purchasing our ornaments, you're not only getting a charming piece of holiday décor but also supporting a small, veteran-owned business.
Don't miss out on this quirky and festive addition to your holiday collection. Order your "A Good Friend vs. Best Friend" Christmas ornament today and let the laughter and merriment begin!