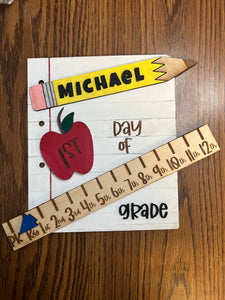 Introducing our unique Wooden Back to School Sign, a perfect keepsake for your child's academic journey! Crafted with love by our small veteran-owned woodworking business, this delightful sign is a wonderful addition to any classroom or home.
Made from high-quality 1/8 inch Baltic birch wood, each sign is meticulously handcrafted and painted with care, ensuring a charming and durable piece that will stand the test of time. The sign features your child's name in wooden letters on a pencil, adding a personalized touch that celebrates their individuality.
What sets this sign apart is the cleverly designed ruler with a magnetic sliding arrow, allowing you to effortlessly highlight your child's grade for the current school year. As they progress through their educational milestones, this sign will be a visual reminder of their growth and achievements.
To make each school day special, we've included three interchangeable wooden apples. Place the first-day apple to mark the beginning of a new academic year, the 100th-day apple to celebrate an exciting milestone, and the last-day apple to commemorate a successful year's end.
Whether it's proudly displayed in the classroom, hung on the bedroom wall, or cherished in your family's memories, this Wooden Back to School Sign captures the essence of learning, growth, and cherished moments. Get ready to make this academic year extra special with our lovingly handcrafted sign!
Need additional Pencils and prefer the pencil be magnetic to interchange for multiple children? Add on Extra pencils for $7 each!