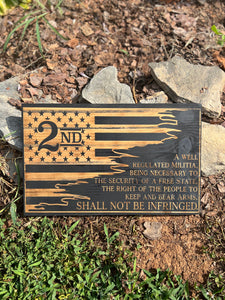 Calling all Second Amendment advocates: Unleash your passion with our meticulously crafted wooden signs. Each stroke of the engraving carves out the spirit of liberty, transforming ordinary wood into a testament of unwavering belief. Proudly display your dedication to the right to bear arms, adding a touch of timeless elegance to your space. Our engraved signs are more than just decor; they're a powerful statement, a symbol of freedom that resonates with like-minded individuals. Embrace your love for the Second Amendment and let your walls speak the language of liberty.
This sign is laser engraved on pine wood and stained with black stain. The perfect sign to display anywhere for the patriot or 2A supporter in your life!
The sign is 3/4" thick and comes in 2 different sizes.
The smaller size is 15 3/4" x 9 1/4"
The larger size is 18" X 11 1/4"
The signs do not traditionally come with anything on the back, as we prefer to hang ours using commands strips however if you would like claw strip hangers on the back or included just let us know and we will be glad to include those!